About the Artist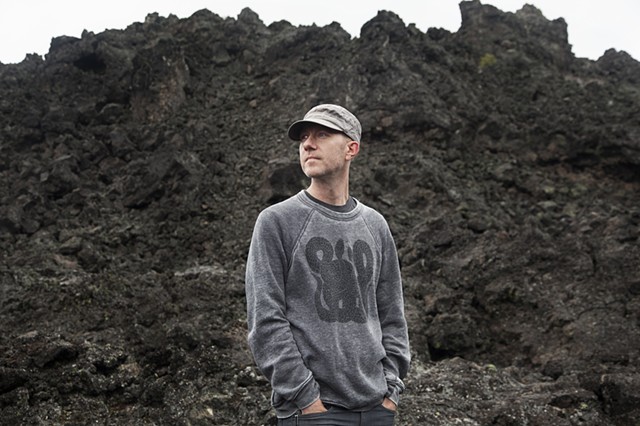 Brian Kirkbride is a musician, sound artist, DJ and programmer based in Chicago whose cross-disciplinary practice integrates data, field recordings, synthesizers and found sound from records and films through conceptually-driven audio processing. His work is on exhibit now at The Arts Club of Chicago and will be shown at Whitechapel Gallery, London in November 2018.
Inspired as much by the marvels of the natural world as the monstrosities of the human one, his work has generated birdsong from photographs of ferns and drowned post-World War II travelogues under waves of over-driven 80s pop melodies. He was delighted to learn that "cat ghost revenge story" represents an entire genre of Japanese film.
In 2017, Kirkbride was commissioned by the Chicago Film Archives to create the sound and score for Sky Room, a collaboration with filmmaker Marianna Milhorat for the CFA's Media Mixer series. Sky Room opened the Ann Arbor Film Festival and has screened at Alchemy Film & Moving Image Festival, Bienal del la Imagen Movimiento (Buenos Aires, Argentina), Montreal Underground Film Festival, Onion City Film Fest, Bogotá Experimental Film Festival, Fovéa (Nice, France) and Simultan (Timisoara, Romania).
With visual artist Jenny Kendler, Kirkbride has collaborated on several large-scale sound art and data-driven projects, which have been exhibited at venues such as the Museum of Contemporary Art Chicago, The Arts Club of Chicago, EXPO Chicago, the Lincoln Park Conservatory for Experimental Sound Studio and at Millennium Park for the Arts Club of Chicago and Art Institute of Chicago.
Kirkbride has been involved with the Chicago arts community since 2005, when he founded OtherPeoplesPixels, a service that enables artists to share their work online. He is also a co-founder of the OPPfund supporting the arts, social justice and environmental preservation — including the MAKER grant in partnership with the Chicago Artists Coalition.
He is part of Deep Time Chicago, a collective of artists, activists, educators and scientists working to more fully comprehend the interaction of human culture and industry on the surrounding environment. By organizing walks, talks and exhibitions, and through publishing Deep Time seeks to encourage a more just and sustainable future for humans and non-humans alike.
Kirkbride occupies a leadership role in the ClimateMirror project, a volunteer effort to protect at-risk climate data from an anti-science US administration, and is currently working on a collaborative project centered around this work.